Chiropractor Jiovanni Pabilonia D.C.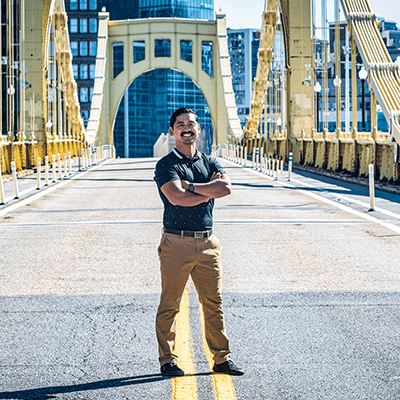 This is the place on the site where it's standard practice to give you a quick glance into my professional life and to convince you that I'm qualified enough that you'll want to come here instead of the doc down the road. So bear with me while I talk about how awesome I am in the third person. Fair?
Dr. Jiovanni Pabilonia (or "Dr. Jio" as his patients call him) graduated with a Bachelors degree in Biology from SUNY Buffalo and received his doctorate from Palmer College of Chiropractic Florida. He practiced in Tampa, FL for several years, treating patients ranging from infants to professional athletes and everyone in between, alongside nurse practitioners, medical doctors, orthopedic surgeons, and neurosurgeons. He has recently returned to the Northeast to be closer to family.
Dr. Jio participated in sports throughout high school and college which resulted in injuries to his back and knees. After being told that his only option would be surgery, he searched for alternative, less invasive solutions. His research led him to chiropractic and eventually fueled his passion for helping and educating others.
Dr. Pabilonia evaluates each patient to understand the underlying cause of his or her symptoms and treats them with a comprehensive approach. He is passionate about staying active and fueling the body with the proper nutrients to get the best results. An avid golfer, basketball player, and movement enthusiast, he personally utilizes the same nutritional protocols and exercise regimes he recommends to his patients. In fact, patients will tell you they constantly hear Dr. Pabilonia say, "We were made to move, so move!"
He stays up to date on current techniques and has attained post-doctoral certification through the Titleist Performance Institute, Rock Tape, and Motion Palpation Institute. His post graduate education includes MRI Interpretation, Primary Spine Care, and Crash Dynamics.
When not helping patients, He enjoys spending time with his family, trying new restaurants (they plan on eating their way through Pittsburgh), playing golf, and maintaining a healthy, active lifestyle. He is honored to have the opportunity to be a part of your health care team and to help improve the lives of many.
Other reasons why you should choose us:
Wait times are super low. A 2 minute wait is a long time in our clinic. We typically get started right away.
Transparency-We make sure you understand what we are dealing with, what it's going to take, and what it's going to cost.
We are right off of I-376 in Greentree which makes us conveniently located for people in Pittsburgh and all of Allegheny county.
4. We Accept Most Insurances including UPMC Health Plan, Auto Insurances and Highmark BCBS.
Don't have Insurance? We have Affordable Pricing.
We have successfully Treated Thousands of Local Patients.
Se hablas español (un poco).
OFFICE HOURS
---
Monday
8:30am - 12:00pm
3:00pm - 6:00pm
---
Tuesday
3:00pm - 6:00pm
---
Wednesday
8:30am - 12:00pm
3:00pm - 6:00pm
---
Thursday
8:30am - 12:00pm
3:00pm - 6:00pm
---
Friday
8:30am - 12:00pm
---
Saturday
By Appointment
---
Sunday
Closed